Arbor Manor Rehabilitation & Nursing Center
Arbor Manor provides skilled rehabilitation services and nursing care for your loved one in a home-like environment. Our professional staff takes great pride in providing a spotless facility, noted for excellent meals and a variety of activities for all of our residents. Successful rehabilitation outcomes and discharges occur weekly, satisfying both our residents and their families.
Being the #1 Skilled Nursing Care Center in Jackson County, according to a family satisfaction survey, our skilled nursing facility provides: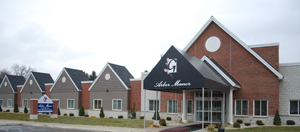 Certified Medicare and Medicaid

Skilled, basic and assisted living beds

In-house physician, pharmacy, dental, X-ray services

In-House Rehabilitation nurse and staff

Registered nurses , licensed practical nurses

Certified nursing assistant
Emphasis on psychological/emotional needs

In-room cable & telephone

Air Conditioning

Staff Chaplain

Single story building

Outpatient Therapy Services

Ultrasound Therapy

Electrical Stimulation

VitalStim Therapy

Certified Lymphedema Therapist

LSVT: BIG

SPEAK OUT! and LOUD Crowd
With grant funding from The Parkinson's Voice Project we are able to offer an effective program that combines, individual speech therapy (SPEAK OUT!) and ongoing group sessions (The LOUD Crowd). 
For more information please call the Therapy Department at 517.750.1900 ext: 1158